The 75-year-old's researcher has helped lay the foundations for the revolution in artificial intelligence, but now Geoffrey Hinton is worried. His work on neural networking – building computer systems that can learn from data and experience – has been at the heart of recent advancements. Yet now he fears that the pace of improvements in AI could be a real risk to humans.
In an interview with the Guardian's UK technology editor, Alex Hern, he lays out why he fears that digital intelligence has some distinct advantages over the human brain and why there is a possibility this could lead to people eventually being controlled – or even wiped out – by it.
Hern explains to Michael Safi why Hinton is issuing these warnings, how seriously we need to take them, and what he thinks we need to do to avert calamity.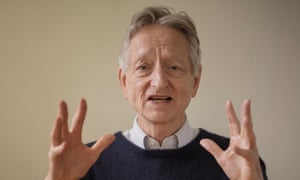 Support The Guardian
The Guardian is editorially independent.
And we want to keep our journalism open and accessible to all.
But we increasingly need our readers to fund our work.
Support The Guardian